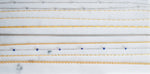 At Cybelle we want to bring you what you want, what you need, at a great price and not compromising on quality.
Experiment with your jewellery, layering and stacking, textures and metal variations is meant to be fun and there are no solid rules…well maybe 1!
Continue reading for our guide to necklace layering with styling tips, it is easier than you may think.
How to with your neckline
A high or low neckline are the easiest to style- you have got the most space to work with.
Where do you want to draw attention to? A Choker will draw attention to your high décolletage area, a longer chain will draw the attention down.
Vary necklace length
We may be stating the obvious, but varying length is so important- this is the one rule you should stick too. If you select necklaces and the lengths that are too similar, they will only tangle. It is also worth investing in a chain extender, or two- this small accessory means your jewellery will work hard for you and your chains will work no matter the neckline, something we love at Cybelle.
Layering your necklaces can work for you all year, winter knitted rollnecks- no problem, choose longer length and leave the choker in the jewellery box.
3 layers is good place to start, choosing different necklaces means you can create your own unique look, however 2 will also look great.
What type of necklaces layer well?
Choose your shorts chain first, a choker or short pendant (12-16 Inches) then move on. If you consider a pendant for your central necklace, remember it's drop when choosing the length of your third chain.
Textures
Textures are gorgeous to play with- for example- our Twisted Rope chain can add sparkle with no stones. Add with chunky and dainty, chain link variations and mixing gold and silver.
If you're new to layering I have 2 recommendations for you.
 1-Dotty Necklace, Snake Chain and Oval Medallion
Or
2- Curb Choker, Snake Chain, and Twisted Rope Chain
Wear over a simple White Tee/Tank or Linen shirt for a relaxed look.
Our Constellation and Dorothy necklace is the longest chain we stock- it makes a perfect smart layering option- wrap it twice and adjust for an elegant look.
Extra styling notes...
Pendant and Charm necklaces create a lovely focus point- stones add sparkle and colour. Charms can carry a special meaning, power, or hold a personal message that are eye catching.